Plant-Based Keto-Friendly Burgers are making it super easy for vegan (and Veggan) ketotarians to stick to the program. The out-of-this-world plant-based burgers have entered our stratosphere for reals, and for keeps. All thanks to the revival and modification of the ketogenic diet system so many peeps are embracing. And it's time for traditional keto burgers to mooove over!
Plant-based burgers are all the rave right now. Beef burgers are so last century! Cow lovers for life!! Cowabunga dude! It's absolute Mootiny in the ranks. LOL! Okay, enough with the dirty jokes and back to the question. Are plant-based burgers keto friendly?
You can bet your bottom (and your top) dollar they most certainly are….some of the time. Of course, not ALL plant-based burgers will be keto-friendly. Think hashbrowns, soy patties, bean-based patties, potato-based burger patties. And don't forget the bread buns, loaded with the dreaded carbs and gluten. Not so keto-friendly. And even the pineapple on your Haiwaiin or the cheese that comes with your mushroom sauce burger is going to trip you up when it comes to keto veganism.
So I'm gonna shine a little light for ya! And get you drooling for the types of plant-based vegan keto-friendly burgers that you can totally devour on your vegan keto eating plan.
If you are a vegan keto newbie this next bit of burger basics is going to give you some food for thought and get your tastebuds tingling. Double Bonus! You can also check out our essential keto vegan shopping list here, for some ideas on how to stock your pantry and your refrigerator.
What Does A Plant-Based Keto-Friendly Burger Look Like?
First off, you gonna swap out them carb-laden, wily wheat buns for a keto-friendly option. Or you can deconstruct. And scrap the buns. A burger is basically a layered creation of juicy flavors and textures. My absolute fave bread bun replacements are thick aubergine steaks char-grilled to perfection. Cram a juicy giant brown mushroom, smothered in garlic, in between and I'm good to go! And nothing beats adding crunchy, garden-fresh micro-greens to the equation. Oooh! and some avocado slices, drizzled with hemp seed oil, Himalayan salt, and a drizzle of lemon juice! Mmm mm mm!
So basically, for a plant-based keto burger to be a keto-friendly burger, a few things have to be true. These are the obvious things
it should be bunless or have buns that are as carb-free and gluten-free as can be. Or wrap your patties in seaweed sheets, crispy lettuce or sauteed cabbage leaves (seasoned with caraway and macadamia nut oil…yummy yum yum)
it should be free from wheat/bread/carb/potato/beany/dairy type ingredients.
it should be sugar-free. (Yes, there is actually hidden sugar in some processed veggie patties.)
it should be meat-free (obvs)
it should also be healthy. None of this GMO soy and other chemically enhanced, laboratory-grown "superfoods" for us thanks.
At Kind & Keto we like to promote clean eating, so processed foods are not a great option ever. But we are fully aware that so many vegan substitutes for dairy, meat, fish, and eggs have to go through some form of processing before we can kill it as keto vegans. So compromise is not a cop-out, it's a no-brainer. We are free radicals!!!
Where would we be without
canned coconut cream,
cauliflower pizza crust,
psyllium husks,
nutritional yeast flakes,
xanthum gum,
vital supplements,
sugar-free sweeteners like erythritol, stevia, and the rest of the gang
and MOST important Halo Dairy-Free Ice Cream.
Right!? These ingredients have all needed some type of process to become useful to our kind and keto way of eating. Things like the dairy-free milks and nut butters can differ in quality, taste, and ingredients, so we always try to find the best options for you guys to choose from. But with Keto Burgers, you can really go to town with the whole burger concept. And Plant-Based Keto Burgers are uber easy to prepare.
So if you are the busy vegan ketotarian who buys ready-made pattie, read the ingredients with eyes like hawk.
But if you want to truly indulge, then nothing, and I mean NOTHING, can replace the wholesome deliciousness of a gigantic cooked to crisp perfection vegan keto burger patty.
What are the Hero Ingredients in Keto-Friendly Plant-Based Burgers?
Plant-based keto-friendly burgers get made from a variety of the following ingredients:
Chickpeas ( chickpeas are not generally keto-friendly BUT using chickpea flour or adding chickpeas to recipes where the carb to fat ratio is balanced out for keto will be okay.)
Aubergines (Also called brinjals or eggplants)
Cauliflower
Spinach
Broccoli
Kale
Onions
Eggs (for those who are Veggan Ketotarians)
Beets
Mushrooms
Zucchini
Avocado
Lupini Beans ( these little guys are the exception to the rule when it comes to beans and keto)
Gluten-free flours like chickpea, cassava, coconut, and almond.
To get you salivating here are some delightful samples to feast your eyes on.
I love the color of these lime green spinach and coconut burger buns from Castaway Kitchen. You can totally improvise too! Swap out the spinach for some grated carrot or beet, to change the color. Yes, we know carrots are carbolical little treasures but most keto meal plans allow for 20 – 30g of carb per day. This recipe uses eggs, so it's a Veggan keto-friendly burger bun. If you are full-on vegan you can use xanthum gum (and some coconut cream) as a binder in place of eggs. Xanthum gum is keto-friendly. Yay!
Keto-Friendly Favorite Ingredient
Coconut oil is Phat! My go-to coconut oil at the moment is Garden of Life. It's cold-pressed and raw so it's ideal for those of you who do a lot of raw "baking". Hello Fat Bombs for dessert…. if you catch my drift.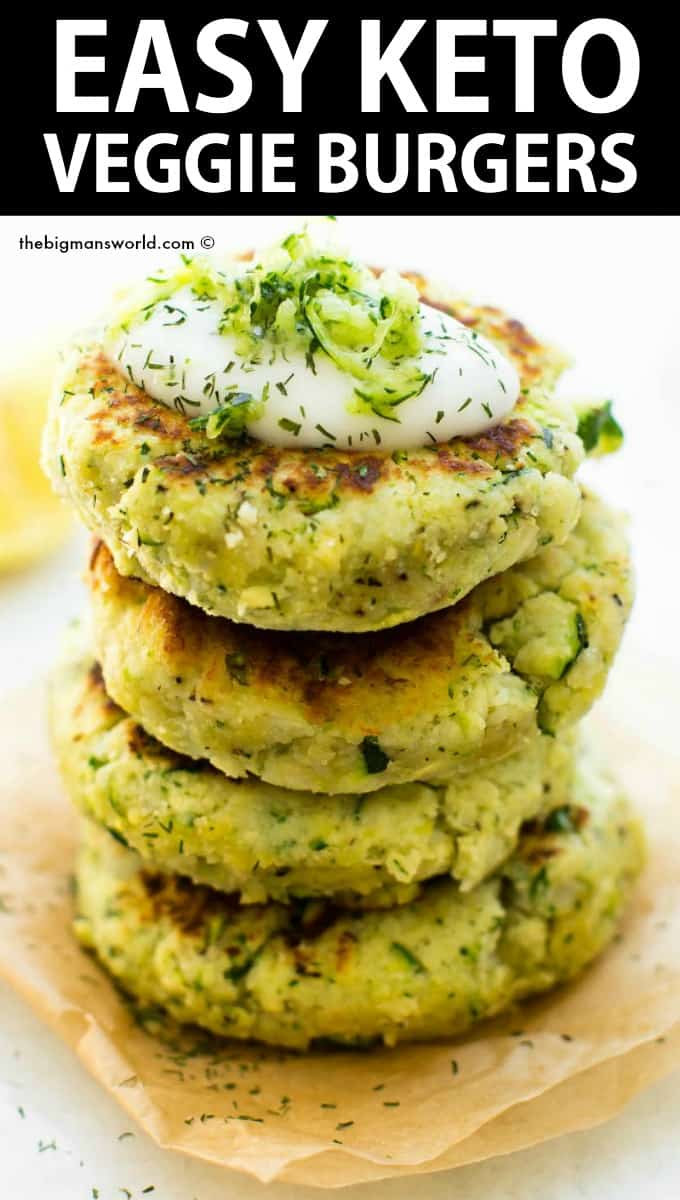 From The Big Man's World, we bring you this really easy burger recipe. It's got eggs in it, making it a Veggan plant-based, keto-friendly burger patty BUT swap out the coconut flour and eggs for gluten-free, all-purpose flour. You can also add a bit of water or coconut cream if the mixture is too dry and doesn't form nice firm patties.
Keto-Friendly Favorite Ingredient
Coconut flour is the star of the show. But remember you can be adventurous when it comes to using gluten-free alternatives to flour. Try blending different flours like tapioca or cassava flour with the coconut flour. I like adding xanthum gum to the mix for extra binding and thickening effect. Always go with less is more when adding keto-friendly binders like xanthum and guar gum.
Dum da da!! And here we have our very own Kind & Keto Epic Beyond Belief Mushroom Burger. Keto friendly and plant-based as promised! This munchfest is totally suitable for diabetics, Whole 30, LCHF, and Paleo as well.
And if you are now hooked on the whole idea of plant-based keto-friendly burgers we also have A Wicked Vegan Keto Beet Burger for you whip up over the weekend. Get the recipe here.
When you do try out these plant-based keto-friendly Sublime Burger Babes, hit us up with your results! And let us know how much they rocked your world! For more delicious recipes and awesome keto-friendly blog posts go here and here.