Do you want to lose weight? Try adding low carb vegetarian meals to your diet. Do you often feel bloated and lethargic after a "healthy" meal? Was it a low carb meal that left you feeling like that? Chances are it was slightly heavy on the carbs.
What's the difference between a low carb diet and a ketogenic diet? And can switching to low carb vegetarian meals give your body a kick start in the metabolic department? And how can you make the switch? You can start by trying some of these delicious low carb vegetarian meals!
If you are new to Kind & Keto, Welcome! And if you are new to vegan keto eating then you've come to the right blog. We cover all the most important points about this way of eating. And if you are brand new to veganism, ketogenic, paleo, or any other restrictive type of diet system we also have really informative articles that can guide you as you start your low carb journey. I've left links to these articles down below.
Why Low Carb Vegetarian Meals?
So back to the questions. Basically low carb meals are not automatically keto-friendly. In other words, despite being low carb you may not hit the ketosis stage that ketotarians aim for. Keto-friendly low carb vegetarian meals will always be higher in fat than both carbs and proteins combined.
A good guide is to try and stick to around 50g of net carbs daily. And a good ratio is 7:2:1 or 3:1 or 4:1. This means you'd either eat meals that are 70% fat, 20% protein, and 10% net carbs. Or you'd eat 80% fat and 20% protein, no carbs (4:1) or you'd aim for 75% fat and 25% protein (3:1). It's up to you how extreme you want to go. If you have a coach (or your own dietician) they'll be able to guide you and help you create a customized eating plan.
About the carb count
So while these next 12 low carb vegetarian meals are aiming to be ketogenic you may find that the carb count is slightly higher than usual. As you get more experienced you'll learn how to tweak low carb recipes and turn them into low carb keto ones. But this is an awesome place to start out. Also, being vegetarian recipes, there may be dairy, which you can just swap out with dairy-free options if you are vegan.
At Kind & Keto we are promoting a kinder way of eating so we don't want to push any strict regime on anyone. We want you guys to find the joy in low carb vegetarian meals and the way to achieve that is to tread gently and be kind to yourself. To help you we have created a 21-day diet system. You'll find the link at the end of this blog post.
So without any more delay, let's jump into these delicious and nutritious low carb vegetarian creations.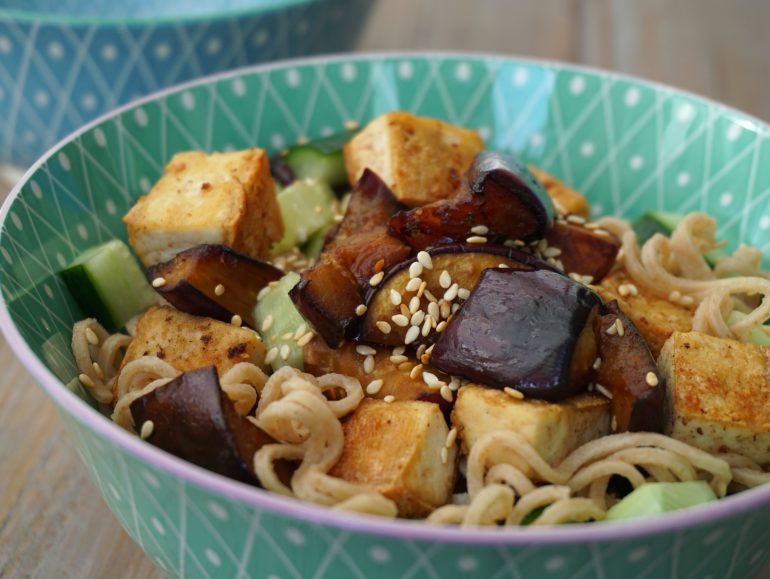 Low carb noodles come in many exciting variations. Choose from rice noodles, kelp noodles, zucchini noodles, spaghetti squash skwoodles (it's a thing)… no it's not. But it could be…
No net carbs available.
Low Carb Favorite Ingredient
Kelp noodles
I chose kelp noodles to be the hero ingredient, not because they are my first choice with this dish, but because they get a bad rap. So I want to prepare anyone that is thinking of trying these for the first time. Too many people buy kelp noodles (from any brand) and are disappointed not because the kelp noodles are bad quality but because the expectations are unrealistic.
I have tried many different brands of kelp noodles, and have found that the crunchiness is consistent regardless of which brand i bought. Granted, a few of the brands had really bad artificial, chemical smells and tasted a bit yuck. But in general kelp noodles taste the way they taste. They never going to taste like a bowl of carb-laden spaghetti. Kay?
Pasta is made from wheat, and sometimes eggs. and when cooked they turn soft and glutinous. Zucchini noodles cooked or raw comes with its own taste and texture. Kelp noodles will always be crunchy when you use them as a pasta substitute, especially in a dish like this. In the East, they are added to watery (but flavorful) soups and broths.
Secret To Preparing Kelp Noodles
The best way to eat kelp noodles is to add them to a broth where they will soften and absorb the flavors of the soup. You can also soak in hot water with lemon juice and salt. They will still retain a crunch. It is an acquired eating experience. They are great for rawtarians because they can be eaten straight from the bag, literally. Just know what to expect. And if you looking for that soft pasta substitute try spaghetti squash or gluten-free pasta made from rice flour.
This recipe did not come with a net carb value. But 100g of green papaya will have roughly between 7-10g net carbs, making it an ideal keto-friendly ingredient.
Low Carb Favorite Ingredient
Green Papaya
As I said, this fruit, when cooked in its unripened state is an ideal keto ingredient. like spaghetti squash, the flavor is quite bland. This makes it perfect in recipes where the other ingredients and spices get a chance to be absorbed by the green papaya.
Papaya contains the enzymes papain and chymopapain. These enzymes have healing properties and have been known to soothe ulcers. Papaya is rich in magnesium and potassium. It's also high in vitamins A, C, E, and B.
A simple soup that oozes warmth and wholesome goodness.
No net carbs available.
Low Carb Favorite Ingredient
This brand, Tragano Greek Organics, has bottled their fire-roasted, artisanal peppers in 16 oz glass jars. 100% natural and organic. product of Greece. I am sometimes a lazy chef, and these beauts make this meal so easy to pull together.
What's really cool about this meal is that it's soy-free. One serving is equal to two boats (or one whole mature zucchini).
Net carbs: 22g Fats: 33g Protein: 18g
Low Carb Favorite Ingredient
Walnuts
Walnuts are high in Omega 3 fatty acids and low in carbs. One serving is equal to 7 nuts. And each serving equates to:
Fat: 18g Protein: 4.3g Net carbs: 1.9g Fiber: 1.9g
Prep time: 5 minutes Cook time: 25 minutes
This warm cooked low carb breakfast recipe is also a perfect vegan keto meal. The fat to protein to carb ratio is 7:2:1 or 70% fat, 20% protein, and less than 10% carbs.
Net Carbs 3.27g
Low Carb Favorite Ingredient
It's hard to choose just one favorite from this recipe. It has all my favorite indulgences in the form of pecans, walnuts, chia, and cinnamon. All these products can be found in the Wildly Organics range. If you want to do your grocery shopping online go here to get to our essential shopping list, with links to our affiliates, Wildly Organics and Amazon.
Try these low carb tofu tacos with jackfruit instead of tofu. Or tempeh instead of tofu. For the wraps, you can use butter lettuce, spinach (Swiss Chard), or gluten-free tacos. The roasted cauliflower and shrooms are seasoned well and give this meal an earthy smoky type of umami.
Low Carb Favorite Ingredient
Net carbs: 3g per taco shell, these babies are high in fiber so it brings the net carbs right down. What a treat.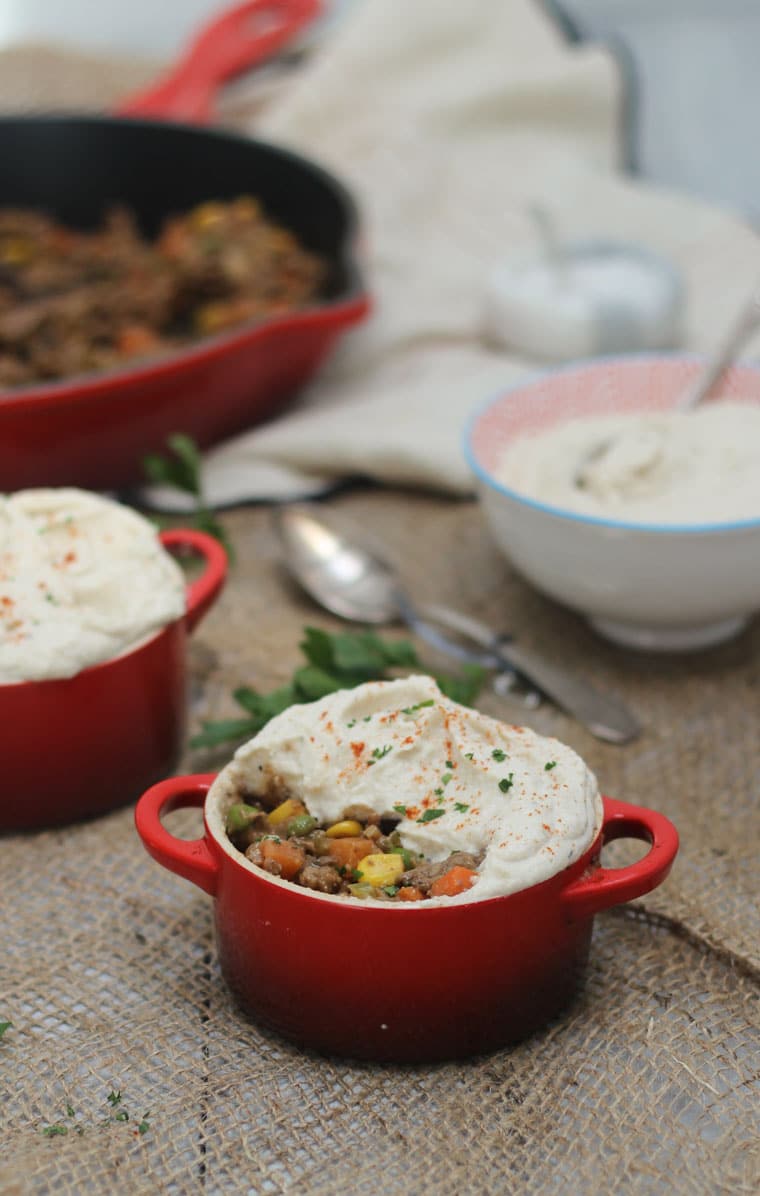 Wow!! This is for the vegan ketos that long for the comfort foods of their youth every now and then. There really is no excuse not to go from low carb vegetarian meals to vegan keto meals! A kinder Shepherd's Pie you will not find. This dish takes 35 minutes to prep and cook.
Low Carb Favorite Ingredient
This brand can be bought as a 12 pack. So it's super convenient as a pantry staple. Often with low carb vegetarian meals, a recipe calls for some type of broth. This mushroom broth won't mess your carb count up at all. A totally guilt-free, natural flavor enhancer.
Low Carb Favorite Ingredient
TVP Chunks
Why did I choose this ingredient? Well because it is the attention grabber in this recipe. Soy mince is a processed food. Soy is a controversial keto addition generally and the net carb value is not the lowest. Soybeans, on the other hand, are high in protein and lower in carbs.
All that said, find a good quality, non-GMO, soy mince for the occasions when you do choose to imitate those good ole fashioned meaty comfort foods.
Oh man! This is the BEST Pad Thai ever! For two reasons, no pasta and a homemade pad thai sauce. MinimalistBaker has created a Pad Thai sauce that totally compliments a low carb menu. All you have to do is use coconut sugar or stevia in place of the maple syrup. And instead of fish sauce and tamarind you can use lime juice and coconut aminos.
Net carbs: 21.1g Protein: 9g Fat: 15.1g High in potassium, calcium, iron, vitamins A and C.
Low Carb Favorite Ingredient
Homemade Low Carb Pad Thai Sauce.
Instead of listing our hero ingredient here, I want to share the low carb and vegan keto alternative to Pad Thai sauce. This sauce can be whipped up in minutes and you should have everything needed in your pantry.
So just in case, you didn't check out the recipe, here is minimalistbaker's Pad Thai low carb sauce.
2 1/2 Tbsp nut butter (almond butter, peanut butter, sunflower seed butter, etc.)
3 Tbsp lime juice
3 1/2 Tbsp coconut aminos
1/2 tsp red pepper flake
1 1/2 Tbsp maple syrup (12 g coconut sugar or stevia)
Net carbs: 16g Fat: 10g Protein: 3g Fiber: 6g
Low Carb Favorite Ingredient
Veggie Spiralizers
I thought this would be a good time to mention spiralizers. You need one when you are the chef behind all these low carb veggie noodle dishes! I have the standard Briefton's 5-Blade spiralizer. I like it because it's powered by my right arm!. If your budget is scary tight go for a hand-held version, there are quite a few for less than $10.
When I grow up though…. I want a KitchenAid Stand Mixer with ALL the attachments, not just the spiralizer. You have to buy them separately! I'm glad I can't afford it yet because there is no way I would be able to choose a color. They have the most delicious-sounding colors to choose from! Majestic yellow, copper pearl, aqua sky, cinnamon gloss, the list goes on!
This dish is from France and the word "ratatouille" means to toss or to stir up. This hearty veg stew is prepared in a number of ways. It's the perfect dish to cook in an instant pot.
Low Carb Favorite Ingredient
Fresh Farmer's Market Veg
Because it is such a whole food meal, the perfect heroes of this dish should be found at your local farmer's market! Fresh, organic, and homegrown.
This low-carb feast is popping with fresh veggies!
Net carbs: not available
Low Carb Favorite Ingredient
I'm a bit hooked on Tragano products at the moment. These olives come from a single estate and like other Tragano products, they are artisanal. Packed in oz glass jars, and pitted.
Thanks for reading….12 LOW-CARB Vegetarian Recipes.
If you want to eat up more of our tasty content you can check out other vegan keto blog articles. Or if you are rearing to go, head to our recipes section and indulge! And as promised, you'll find our Ultimate Beginner's Guide To Vegetarian Keto Diet with Sample Meal Plan here. For our blog on the difference between vegan keto and vegan paleo go here. And to try out our Ultimate Vegan Keto Diet System, that starts at $9.99, and has coaching options also, go here.
If you love us and want regular updates, you can subscribe here.