Zucchini! Zucchini! You beauty, you! This humble marrow, or squash, is as versatile as cauliflower when it comes to vegan keto recipes. You can make breads, cookies, instant pot dishes, soups, casseroles, buddha bowls, salads, and even vegan, gluten-free, low-carb "pasta". Try these Low Carb Zucchini Recipes out!
Zucchini noodles, or like all the cool kids are saying, Zoodles, are loaded with potassium. They taste great raw or cooked. Avo pesto and zoodles are literally the creamiest taste explosion ever! Low Carb Zucchini Recipes make vegan keto cooking a dream.
You can even add zucchini to veggie juices. Roast them, bake them, grate them or fry them. They go so well with tomatoes, asparagus, mushrooms, and brinjals. All great vegan keto veggie options.
Add zucchini to salads using all the greens like kale, rocket, lettuce, spinach, and a host of "wild greens" that you can forage if you live close to a beach, field, or forest. Drench in an oil of your choice, add cracked salt, black pepper, a squeeze of lemon, and a handful of seeds, like poppy, sesame, and chia.
All rise for the venerable Zucchini!
These 7 Low Carb Zucchini Recipes will give you loads of inspiration. Zesty, zingy, zany zucchini, let's get cooking the vegan keto way!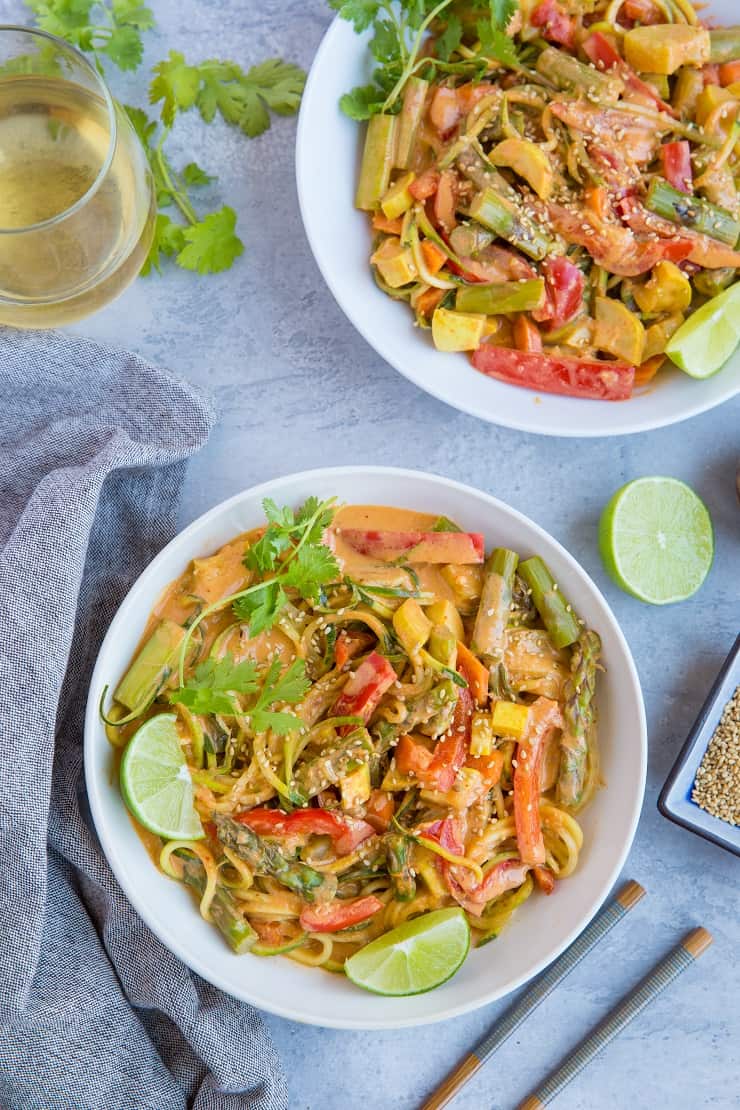 This Thai-inspired curry is a classic less is more scenario. The sauce is made from coconut milk, red curry paste, fresh ginger, and coconut liquid aminos. Leave out the maple syrup.
Low Carb Zucchini Recipe – Favorite Ingredient
Coconut aminos take the place of conventional, high sodium, GMO soya sauce.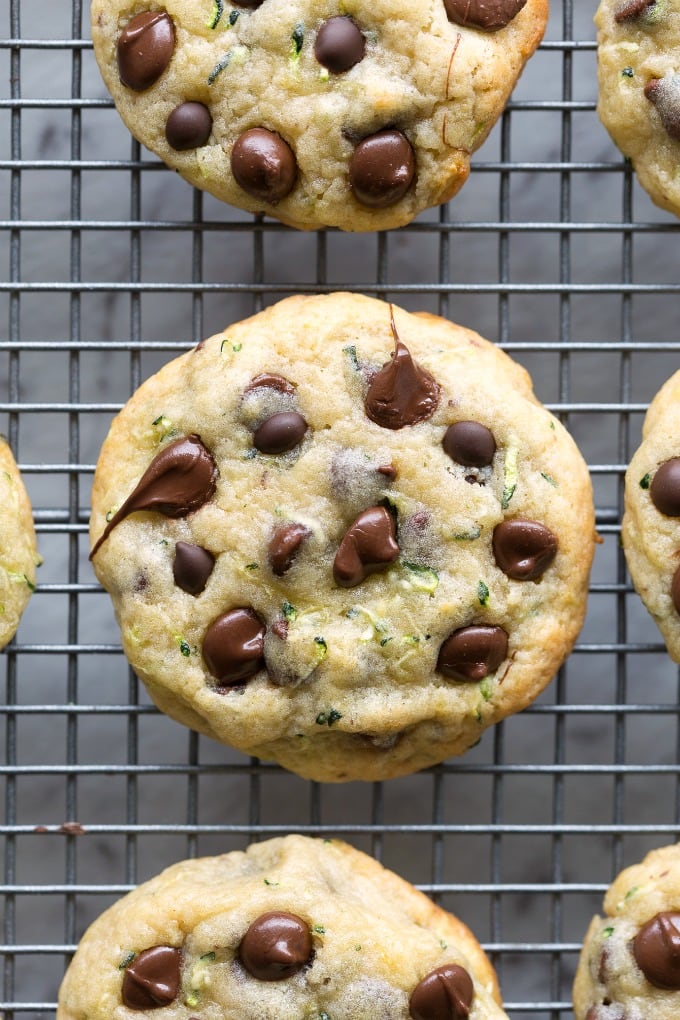 One of the best things about vegan keto cooking is the cookie equation. For all cookie monsters out there, "Good news!" These zucchini choc chip cookies have 13g fat, 4g protein, 3g fiber, and net carbs of 2g. Don't have one, have two!
Low Carb Zucchini Recipe – Favorite Ingredient
I'm also a sucker for pretty packaging. And this sugar-free maple praline syrup hits the spot. Handmade in small batches and comes in a really cute bottle. Use it sparingly, even though it contains maltitol instead of sugar, it's a carb-fest.
How can such decadent slices of yumminess be so good for us! This is a vegan keto dreamboat of a biscuit! 13g fat, 6.7g protein!! 2g fiber, and 3,2g net carbs.
Low Carb Zucchini Recipe – Favorite Ingredient
Each 30g serving has 12g Omega 3&6's and 10g protein. That's more protein and fat (and less carbs) than chia or flax.
Zucchini becomes the "pasta" and cauliflower, the cheese.
Low Carb Zucchini Recipe – Favorite Ingredient
Apple cider vinegar, nutritional yeast, olive oil, cauliflower, and spinach make up this sublime "cheesy" sauce.
This recipe is quick and easy. 8 minutes to prep and 18 minutes to cook. Adding ready-to-use red curry paste is a time-saver and will guarantee you get an authentic curry flavor. So if you aren't a curry masala aficionado, don't stress just be a curry-paste-in-a-jar aficionado instead.
Low Carb Zucchini Recipe – Favorite Ingredient
This brand is organic and gluten-free. The link takes you to a six-pack option (3.53 oz per jar) but it doesn't work out cheaper if you buy in bulk, so there's a single jar option also.
It's free from added sugar, gluten, fish sauce, shrimp, and fish. This authentic red curry paste is made from ingredients that are sourced from small farms in Northern Thailand.
This recipe calls for a coconut and curry paste sauce, but you can also add this to stir-fries, as a marinade for tofu, or as part of a home-made dukkah.
Zucchini fries are baked not fried. And the way you bread them is up to you. This recipe calls for an egg and low-carb mayo or ranch dressing as part of the breading ingredients. But you switch out both these ingredients if you are a strict vegan. Replace with almond milk and chia seeds instead.
Low Carb Zucchini Recipe – Favorite Ingredient
Yeast flakes are awesome for vegans. The natural taste is distinctly "cheesy". You get fortified and non-fortified varieties. So, is one better than the other? It depends where you're at in how you approach food. If you eat a lot of foods with added vitamins, chances are they are synthetic. Fortified yeast flakes have added vitamin B, so it is synthetic. And non-fortified is the unadulterated version. But it is still artificially prepared. It's not found naturally in the wild! So one isn't really worse or better. It's personal taste.
Having said that, I personally don't go for synthetic vitamins. Especially on a vegan diet. Why? Because your body is not going to absorb and convert the synthetic B bits. But like I said, no judgment. It's just that why put something in your body that's not going to do much except add taste…okay so I'm judgy. And contradicting myself a bit. Sue me.
It shouldn't be an issue but it kinda is. If you are a vegan snack hound that gets a fair share of additives and processed goodies in your diet, fortified yeast is okay but if you are changing to a healthier more conscious way of eating then go for unfortified yeast flakes.
Some people have also asked what the difference is between brewer's yeast and nutritional yeast. Well, the taste for one. Brewer's does not taste cheesy, it's slightly bitter. But it has chromium in it which is a bonus. And nutritional flakes don't. Nutritional yeast flakes are from a pure strain of yeast called Saccharomyces cerevisiae. So is Brewer's.
So it is all about the taste. Aaargh! Let's not worry too much about this and agree to agree that nutritional yeast flakes rock the pants off vegan cheese. And we ain't giving it up any time soon, fortified or not.
This recipe, like the one above, calls for nutritional yeast flakes. Even though this is a zucchini based soup, feel free to chuck in any fresh veg you want to use up. And thanks to instant pot cooking it only takes 3 minutes to cook! 3 minutes!! But this recipe contains bone broth. What to do? What to do?
Low Carb Zucchini Recipe – Favorite Ingredient
Bone broth substitute:
Have you guys noticed a growing trend in taking collagen? Please guys, why? why? why? Did you know they take it from the colostrum of cow moms who have just given birth? Whaaaat!? #TrueStory. And thank goodness vegans don't use products like this. But bone broth is also a rich source of collagen and again, where does that leave us vegan keto try-hards?
There is no vegan equivalent to bone broth BUT you can make a kick-ass vegetable, mineral-rich, high-in-potassium broth. Broth (vegan or bone) is healthy cos it's so rapidly absorbed by the intestines, making the goodness available fast.
You can add seaweeds, which are high in the amino acids, glycine and proline. And add miso paste for good measure.
Side note: add the miso after cooking. Don't add it to the instant pot at the start, as the heat will change the nutrient value and the probiotic effect. Miso soup stimulates digestion and energizes the whole body.
Find More Recipes
If you enjoyed this article and the zucchini recipe suggestions check out our blog for more vegan keto blockbusters. Click here to go to our blog.