I think a huge part of being ketotarian is mindfulness. We have already made the choice to eat kindly so that shows there is a level of awareness about what our food is and where it comes from. But it's also about joy! And these 17 tasty ketotarian dinners will not disappoint!
A plate of food that is colorful and vibrant and "glowing" with love is full of joy. Okay so that statement can't be backed by scientific studies, but you catch my drift, right? Homemade Ketotarian Dinner recipes should check all those boxes.
When I plate up meals I enjoy knowing my family and friends are going to be feasting, not only with their tastebuds but their eyes too, I just want to jump for joy! But there is a slight difference between ketotarian meals and vegan keto meals.
How Does Ketotarian Differ From Vegan Keto?
To follow a traditional ketogenic diet you'd be eating loads of fats, meat and dairy, and no carbs, especially if you were doing it to treat an illness or condition like epilepsy or sometimes Type 2 diabetes. Even the symptoms of migraines can be reduced. As a ketotarian, you'll be adding the element of vegetarianism, so you'd swap out meats for plant-based alternatives but still eat eggs and dairy. Some people will still eat fish (the pescatarian bunch). On a vegan keto diet we eliminate the eggs, fish, and dairy, although some of us like to use eggs because they are literally a miracle superfood. But strict vegan will substitute with things like egg replacements or vegan binders and thickeners.
Ketotarian cooking adds a dimension to mealtimes that you never get tired of or used to. It's like every day the ones you feed are surprised and delighted with what they get to eat.
So that's why I have chosen these next 17 Ketotarian Dinners. They are a sight for sore eyes and turn meals into tiny celebrations.
Note: Some of the meals may be high in carbs. Well, when I say high in carbs I mean for a vegan keto diet. If you are just eating a normal diet they'd be considered low carb. Aim for 50g of net carbs per day. Just increase the fat content to bring the net carb value down. Add avo, nut butters, coconut oil, etc.
A Note On Fish
If you are a pescatarian following a ketogenic diet always use sustainably sourced seafood. Go here for a list of sustainable seafood (USA). Each country will have its own list.
This zoodle dish is loaded with a creamy gochujang-kimchi cheesy sauce! Taste Rating: 5 Stars!!
Carbs (no net carbs available): 21g Fat: 37g Protein: 20g
Ketotarian Dinner Hero Ingredient
Gochujang is Korea's favorite fermented hot sauce. It's like miso but with a hot as hell bite. This brand comes recommended. Usually, I recommend things I've tried myself but I haven't tried this sauce ever. I'm going to try it soon though! Cos it sounds awesome. The brand that makes this sauce suggests mixing it before using. Use apple cider vinegar and sesame oil to thin the sauce before you add it to any dish that you want to spice up.
No Net Carb Value
Check out how to grill the salmon using the cedar plank here.
Ketotarian Dinner Hero Ingredient
This seasoning is a convenient addition when you want to spice up a plain bowl of veg (cauliflower especially). It contains annatto which is a seed from the achiote tree (Bixa orellana). It adds aroma and color to bland dishes. And is described as having a peppery taste with a hint of nutmeg. And you know how much I love nutmeg! This specific flavor is made by Goya and has added saffron.
Annatto is also medicinal and is used in South America to treat diabetes, constipation, nausea, and a host of other minor ailments.
Crunchy, crisp, and light. With the perfect keto values.
Net carbs: 4.83g Fat: 26.3g Protein 16.8g
Ketotarian Dinner Hero Ingredient
Garlic powder
I never used garlic powder until I started making vegan cheeses. Now it's a staple, along with nutritional yeast flakes, lemon juice, and nuts. These are the basic ingredients to making any type of ricotta-type vegan cheese. I like this brand, Gustus Vitae, cos it ticks all my boxes, sustainably sourced, non-irradiated, organic, non-GMO, hand-packed into 6oz magnetic tins.
Bulk buy: 1lb Organic Granulated Garlic from Spicely Organic
Switch out the sweet potato for cauliflower and choose the DIY Kimchi as a topping over the quinoa or baked chickpeas. Alternatively, you could make a mix of equal parts chia seed, sunflower seed, and hulled hemp hearts to sprinkle on top for extra fat and fiber.
Ketotarian Dinner Hero Ingredient
Kimchi
This recipe calls for kimchi as a topping and there is a DIY kimchi recipe there if you want to have a bash at making your own. But if you prefer to buy ready-made kimchi there are many good brands to choose from.
And remember kimchi is probiotic so it's a great addition to your vegan keto pantry. Obviously kimchi is available at most supermarkets, but if you are an online shopper like me then here's what you can choose from:
Bulk Kimchi Buy: Choi's Kimchi is made in Oregon, in small batches. This product is a big bag (3.5lbs). Ideal family size pack. Preservative-free. Non-GMO. Vegan.
Jars of Kimchi: Small Town Cultures is a brand with a whole range of pickles and condiments like kimchi. This deal comes as 3 jars (12oz each) It's a good idea to keep 2 jars and give one away. This kimchi has added turmeric which increases the anti-inflammatory properties it already has. This brand is also organic and produced in the USA.
Net carbs: 7.1g Protein: 16.1g Fat: 27.6g
Ketotarian Dinner Hero Ingredient
Goat's Cheese
Goat's cheese for this recipe comes in the form of a chevre. It is fairly soft and in the shape of a swiss roll, so it can be cut into medallions. You can find this type of goat's cheese at your local deli.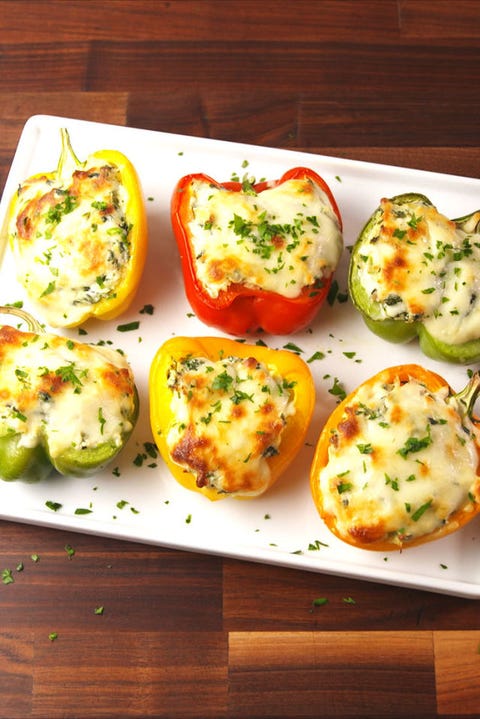 This recipe uses chicken. you can swap it out with a vegan chicken substitute or just replace the 2 cups of chicken with 2 cups of cauli rice or chopped mushrooms.
No net carbs available.
Ketotarian Dinner Hero Ingredient
Artichokes aren't my favorite veggie to cook I usually opt for canned artichokes. You can get them anywhere. The link goes to a brand that has artichoke hearts. You can also get canned artichokes that include leaves and hearts.
Net Carbs: 5g Fat:34g Protein: 4.7g
Ketotarian Dinner Hero Ingredient
It's quite easy to make your own marinara but it's equally easy to get this type of sauce from any supermarket or deli. Traditionally it is a tomato-based sauce for Italian dishes.
What's nice about the Yo Mama Marinara is that it is keto-friendly. It has no added sugar. Always look for added sugar in canned or bottled, or any packaged goods.
This recipe makes 12 "meatballs". Serve on a bed of turmeric cauli rice, kelp noodles, or noodles. And throw in a salad for good measure. Feast!
Per meatball: Net Carbs: 1.1g Protein: 1.7g Fat: 6.6g
Ketotarian Dinner Hero Ingredient
Psyllium husks are beneficial on a vegan keto diet. Although vegan keto is a diet higher in fiber than traditional keto, it never hurts to add fiber. Besides using psyllium husks, or powder, for recipes you can add it to soups, stews, smoothies, etc to get more fiber into your daily meal plan. ideally we should get 30-35g of fiber daily.
This cabbage dish will make you a fan, if you weren't before.
Net carbs: 8g Fat: 49g Protein: 11g
Ketotarian Dinner Hero Ingredient
The Cruciferous Family
The cruciferous family of vegetables are the heroes of vegetarian and vegan keto cooking. They include broccoli, cauliflower, cabbage, kale, bok choy, Brussel sprouts, mustard, cress, and the list goes on. It is a huge family. All these veggies are keto-approved. And if it was not for their loaded nutrient profiles and high fiber I don't think we'd be alive!! Or we'd be alive but riddled with scurvy. LOL!!!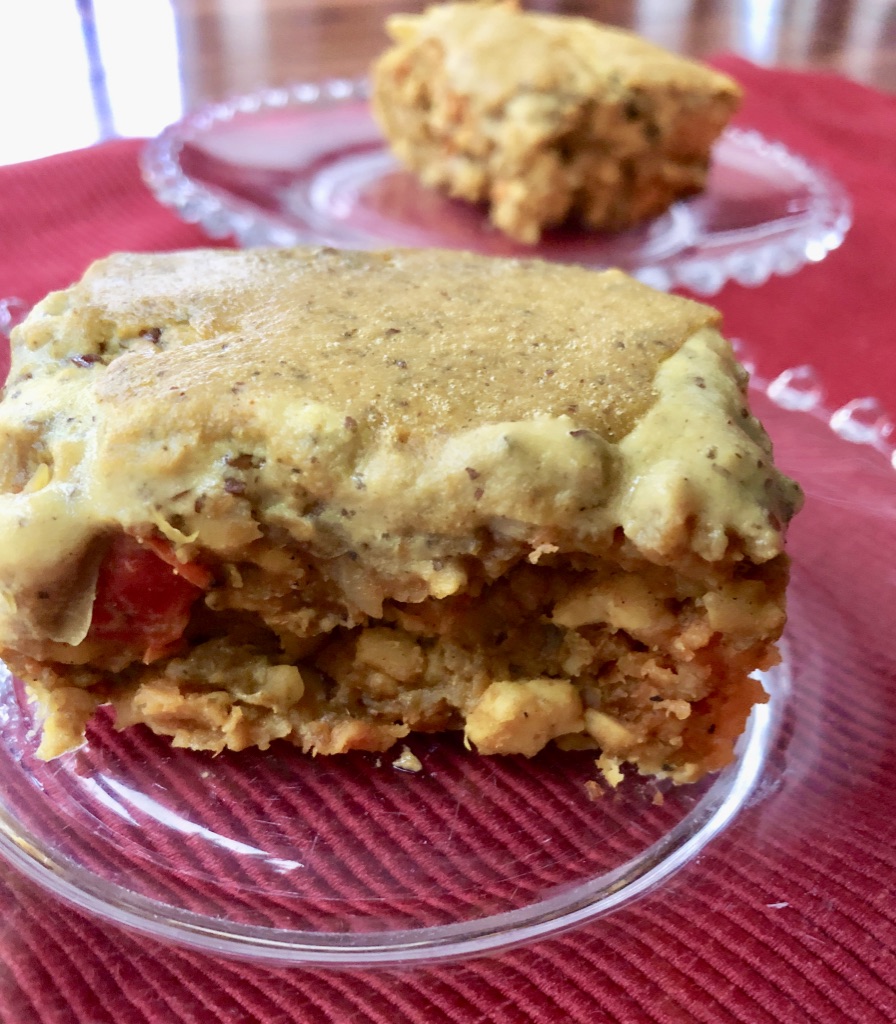 This dish is traditionally made with ground beef or minced lamb. It originates from the Cape Malay people of South Africa. Their cooking is renowned for being lightly curried but also sweet. You will often find the recipes have apricots, raisins, and dates included. The meat is infused with an egg custard and bakes into a beautiful firm pie, much like lasagna, without the pasta.
Traditionally this would be baked and grilled to brown the top. Modern recipes add a layer of cheese topping. It is usually served with a yellow rice that is seasoned with turmeric and raisins. This version is pure vegan.
No net carbs available.
Ketotarian Dinner Hero Ingredient
The only reason I chose this brand is that it's non-GMO. Soya is a good source of plant based protein but it is hard to find a good non-GMO source in local stores.
The next six recipes are taken from The Real Meal Revolution. It is an LCHF diet that was created by Prof. Tim Noakes and is known in South Africa, it's country of origin, as the Banting Diet. I have chosen 6 of their vegetarian and pescatarian recipes. And although there is no net carb or nutritional breakdown, you can be guaranteed they are all keto-friendly in a big way.
Enjoy!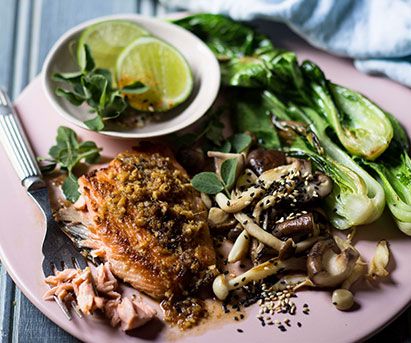 This recipe serves 2. It's simple to prepare. Salmon with an Asian twist.
Net Carbs not available.
Ketotarian Dinner Hero Ingredient
This brand of sake s excellent for cooking with.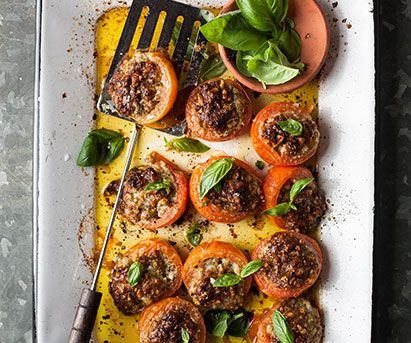 Although this dish alone won't pass as a full dinner, it will go really well with cauli mash, instant pot Brussel sprouts, and a side salad of greens, spring onions, avocado, and sprouts.
No net carbs available.
Ketotarian Dinner Hero Ingredient
You can get walnuts anywhere but all Wildly Organics nuts are organic so if you do buy online, try this brand (link is above)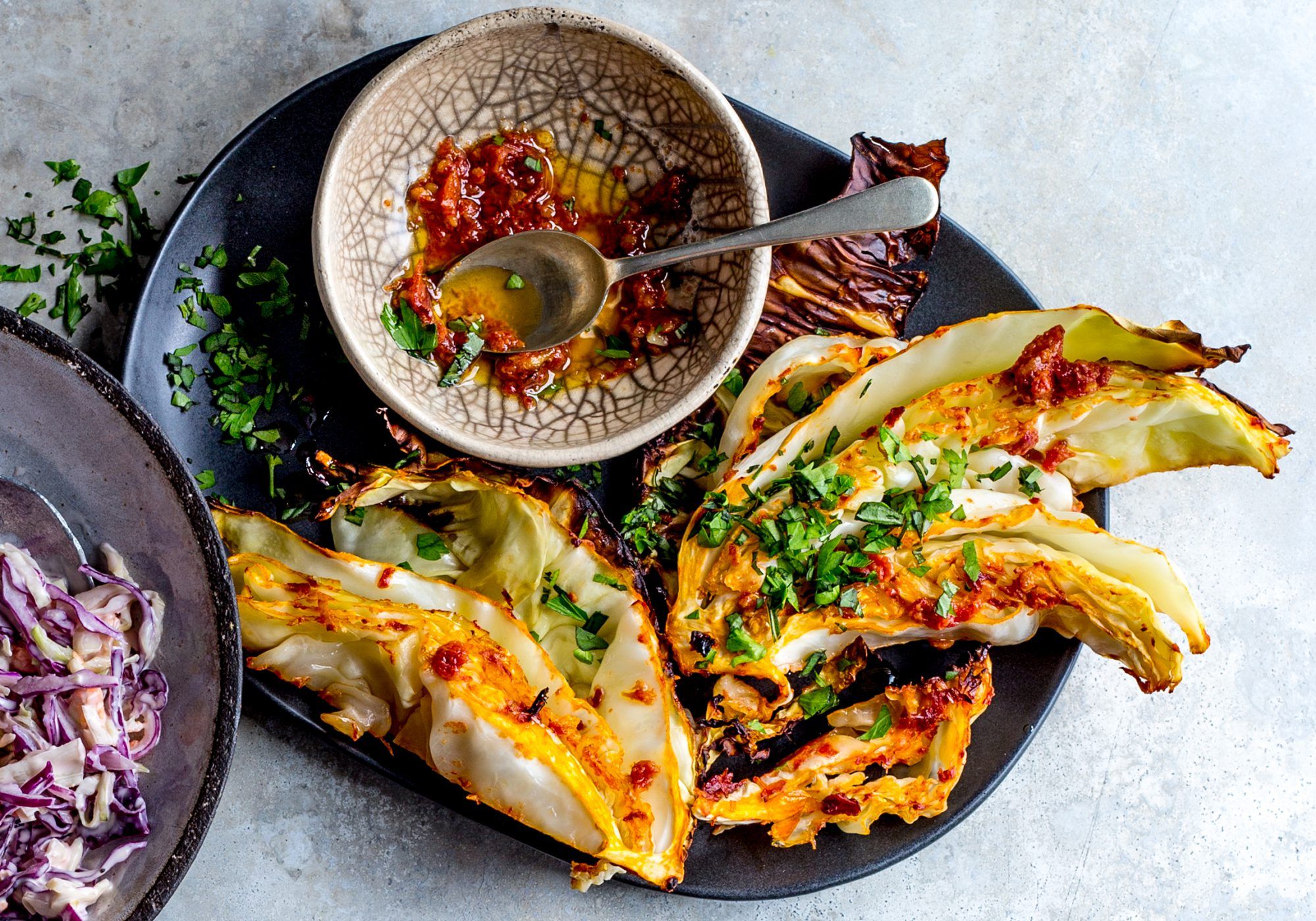 This recipe serves 4. Again, it is not a stand-alone dinner but it is perfectly suited to be served with a deconstructed guacamole and creamed spinach.
Net Carbs not available.
Ketotarian Dinner Hero Ingredient
Sun-Dried Tomatoes
Sun-dried tomatoes are a good source of protein. they yield 11.2g of protein per 100g. That's pretty phenomenal when you think about it. You can buy sun-dried tomatoes from your local deli and they will either come dried and vacuum-packed or freshly-dried and found in the fresh food section. Sometimes they'll be bottled in a delicious herbed oil. You can also get them online. This is a brand I have tried before. I prefer my sun-dried tomatoes without oil. I then usually make my own herbed oil and bottle them myself.
15. Whole Roasted Jerk Cauliflower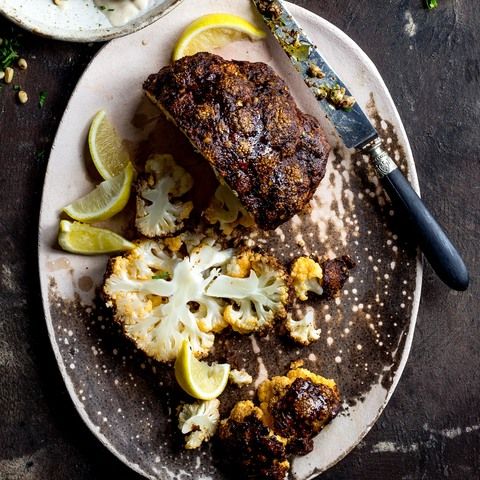 Forget Winner Winner Chicken Dinner! This roasted jerk cauliflower will have you relishing the idea of a Sunday roast lunch. Serve this with a side of creamy nut butter infused acorn squash, zucchini fries, and sauteed broccoli, with caramelized onions. Yumminy yumminess! Straight up!
No net carbs available.
Ketotarian Dinner Hero Ingredient
I think the hero ingredient is the entire "jerk spice". This masala is a great template for what every self-respecting home chef should have on the spice rack. Go through the jerk spice list and see how many of the spices you have in stock and what you don't have you can slowly add to your spice supply.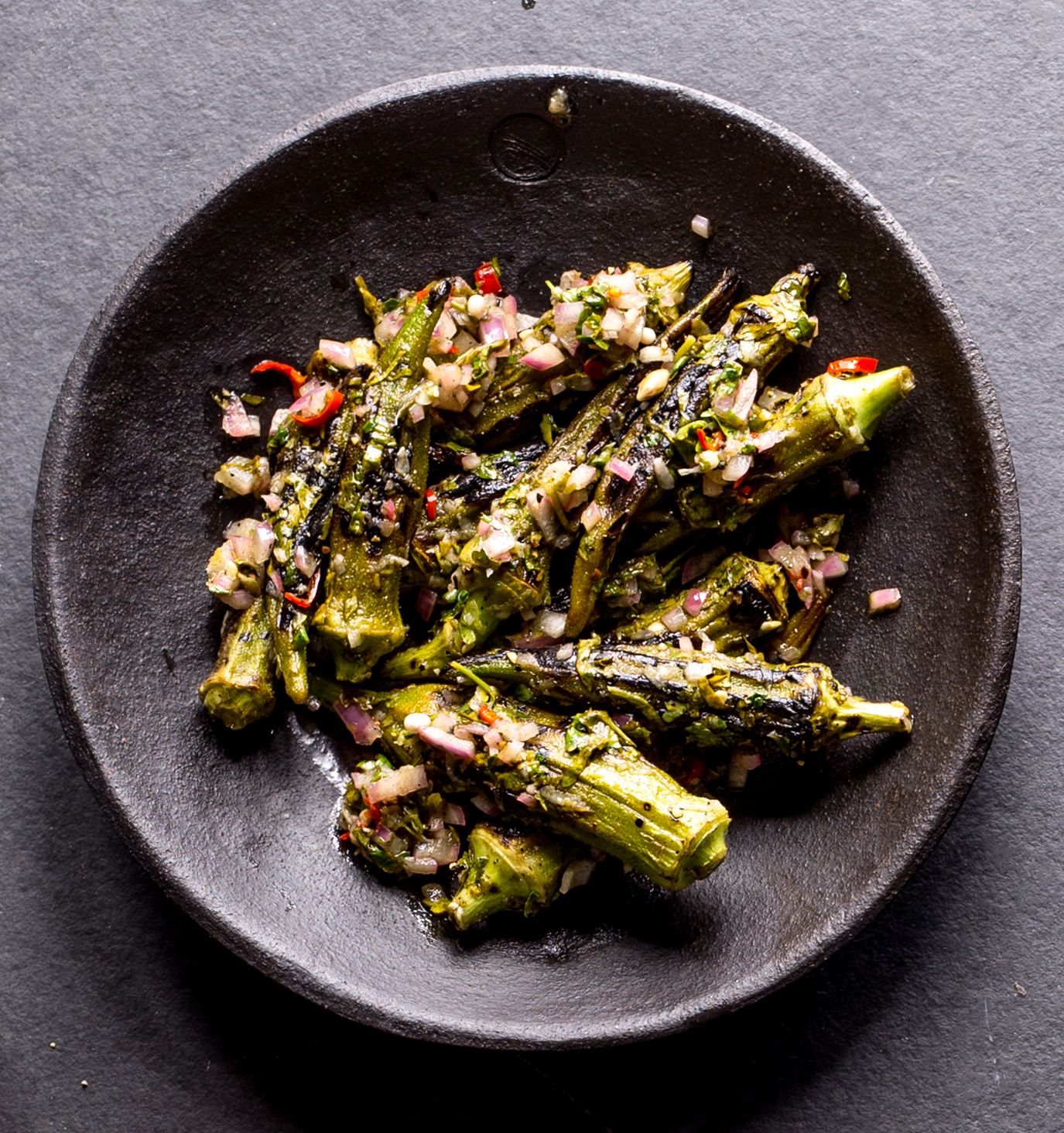 This is a beautiful looking vegan keto side dish. And it literally takes 11 minutes to prepare. Serve it with the Roasted Jerk Cauliflower, cauli mash, or cauli rice. And add a summer salad of nasturtium leaves and flowers, cherry tomatoes, garlic chives, and green beans. Dress the salad with hemp seed oil and sprinkle with sunflower seeds, chia, and almond flakes.
Ketotarian Dinner Hero Ingredient
Fresh Coriander (also called cilantro)
Coriander is an annual herb. The fresh leaves are often used in Indian dishes. The seeds are used to add umami to veggie dishes, especially when blended with cumin and mustard seeds. It has healing and nutritional benefits. It prevents flatulence and has stimulating properties.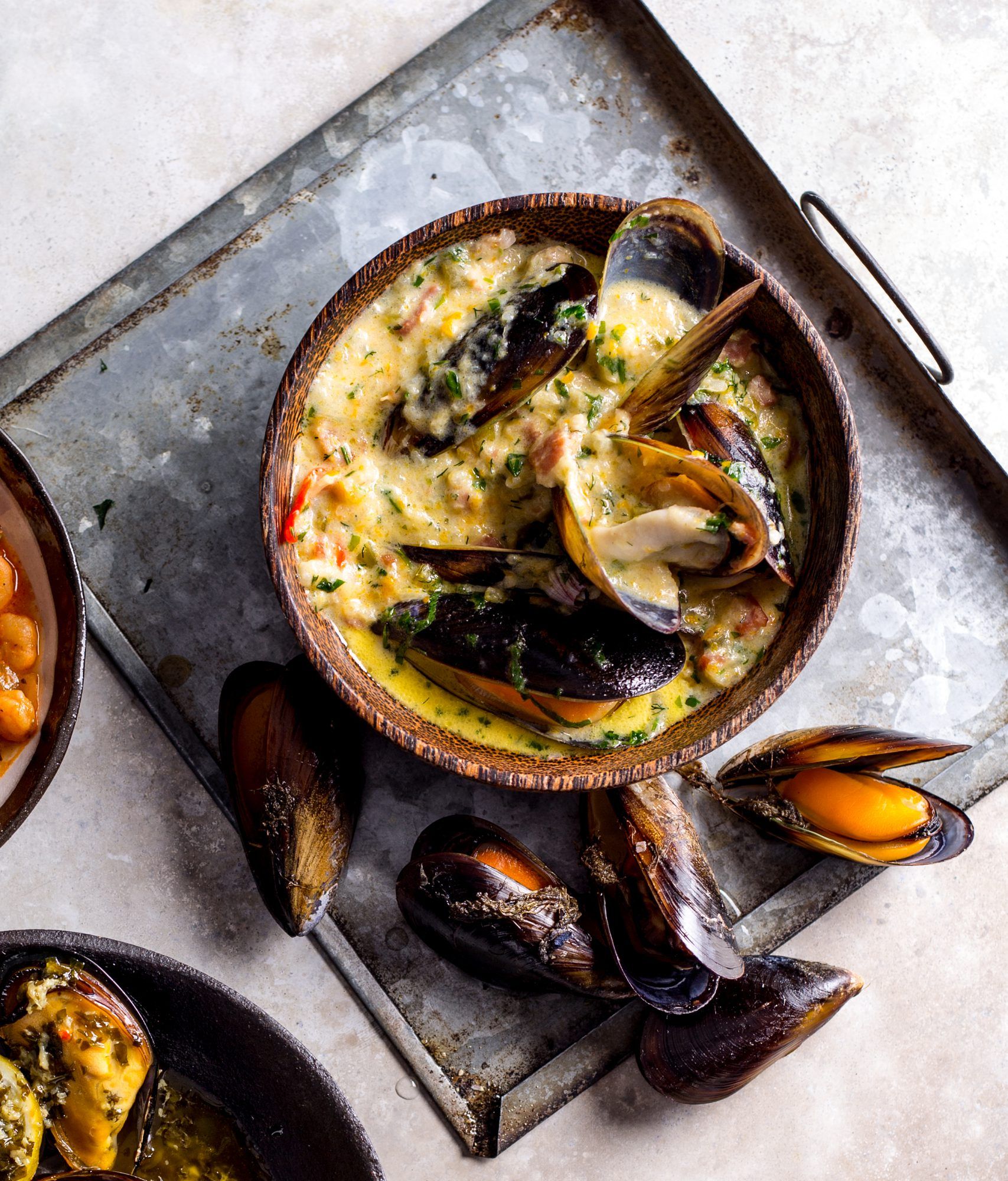 This rich, creamy mussel chowder is a meal on its own. Leave out the bacon, you don't even have to replace it with anything. Bake some keto cauliflower bagels to mop up the sauce with, and you are ready to go!
No net carbs available.
Ketotarian Dinner Hero Ingredient
Mussels
If you can get fresh mussels that would be the best. But cleaning them can sometimes be a mission. Frozen mussels are readily available though. And you can buy them with or without the shells.
1 small mussel has 24% fat, 18% carbs, and 58% protein. So these guys served up in a thick, full-fat, creamy, cheesy sauce is a keto dinner of dreamy decadence.
Thanks for reading…17 KETOTARIAN DINNERS.