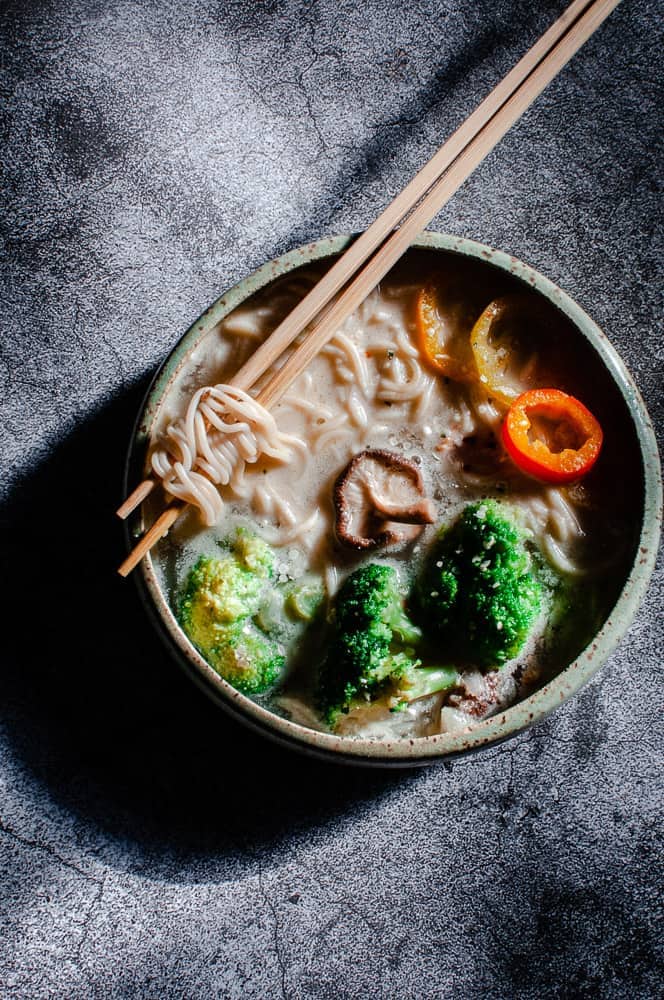 If you love the flavors of Asian food you will love the 17 Vegan Keto Asian Inspired Recipes that we have put together for you. With every serving you will experience the magic of the Far East.
Asian cooking encompasses a wide variety of flavors and ingredients from Japan and Korea to Malaysia and Indonesia as well as Thailand, Vietnam, and China. Each of these countries has its own culinary specialties and diverse flavors. However, there are some classic ingredients that feature in a lot of Asian cooking and we will be including them in these recipes. The flavors include ginger, garlic, scallions, lemongrass, cilantro, coconut, sesame seeds and oil, and many more.
So sit back and enjoy this journey with us as we discover the aromas and flavors of Asia.
This yummy super-food recipe will make a great side dish or appetizer. The mushrooms are roasted after being tossed in the Asian inspired sauce. We will love the texture that the sesame seeds bring to the table.
Perfect for lunch or as a side for dinner in the summertime when salads are the best! You can make this in the morning and pack it in your lunchbox for something yummy that will have you watching the clock.
Recipe Tip: For a lower-carb version use 3 drops of peanut essence for an authentic peanut butter taste without the peanuts.
This recipe not only manages to veganize a popular Chinese dish but makes it Keto-friendly too. So if you're craving the flavors of Kung Pao Chicken without the meat, here is the answer!
Recipe Tip: You can decide if you want it spicy or not by adding more or less chili to the garlic sauce.
Can you ever have too many side dishes? Not if they are all low-carb! What a flavorful way to add variety to all your dinners – mix and match your favorite sides. These stir-fried Asian Green beans may be a bit higher in carbs, so save this recipe for special occasions or cheat days, or if you're not being too strict.
This easy Asian dish can be made in 5 minutes and is so healthy too. Use regular or baby spinach and add it to your dinner menu – it's the best way to get lots of nutritious greens into your diet. This dish can be served cold or at room temperature, positioning it somewhere between a salad and a side. Nice 'n versatile!
Sweet, spicy, and salty Asian flavors blend with the earthy flavor of broccoli to bring you a nutrient-packed side dish that is bursting with goodness.
Recipe Tip: You can add the chili flakes to the dressing mixture or use them as a garnish.
This recipe is super easy and you only need 3 ingredients. If you prefer, you can make your own Teriyaki sauce instead of using the bottled one featured in this recipe as the bottled teriyaki sauce may contain sugar. Or buy a teriyaki sauce that is keto-friendly, like this one, G.Hughes Sugar-free teriyaki sauce.
Miso eggplant is a Vegan Japanese dish. It is easy to make and delicious. Grated ginger and chopped shiso leaves complement the sweet miso flavor and sesame seeds add a nutty flavor to the miso paste.
Recipe Tip: Soak the eggplant in water before you cook it to remove the astringent taste.
A wonderful low-carb alternative to the classic Asian fried rice, you can add your choice of veggies to keep it as low-carb as you need. If you're not being too strict this recipe is perfect just as it is, otherwise sub out some of the veggies with their lower-carb cousins.
Are you looking for tasty salads to accompany your meals or enjoy for lunch? This one will do perfectly – and it's as colorful as a summer's day. Red, green, yellow, and purple ingredients mean this dish is not only good to eat, you'll feel happy just looking at it – but that won't last long; one bite and nom nom nom.
Traditionally known as soondubu jigae, this recipe has two options – take your time and follow the 4 steps, or if you're in a big hurry simply jump to step 4 and toss everything in a pot. The mushrooms add a wonderful creaminess to this dish.
If you love the Chinese style beef and broccoli dishes you are going to L.O.V.E this Vegan-friendly version! Our Keto friends can sub out the rice for cauliflower rice, or turn this into a (no)beef and broccoli Chinese style Chow Mein by serving it on zoodles.
Pasta can be hard to replace when you choose to eat Keto, but there are healthier low-carb alternatives; we promise. We recently discovered konjac pasta, also known as shirataki noodles, which is the featured ingredient in this recipe. Once you have prepared the konjac pasta you can add any veggie or sauce of your choice; we think this is going to become a family favorite.
For more Low Carb Vegetarian meals, go here.
Vegan Keto Favorite Ingredient
Konjac Noodles. A plant-based healthy alternative to traditional noodles with only 4 carbs per serving and high in fiber. Konjac noodles are made from glucomannan, a type of fiber that comes from the root of the konjac plant.
Surprise your family with these super yummy spring rolls that are 100 times healthier than their traditional counterpart but just as moreish. These spring rolls are great for lunch, supper, snacks, and party platters. Your non-Vegan Keto friends will be pleasantly surprised.
Bean sprouts are a great Keto-friendly vegetable that is so delicious in a stir-fry! This recipe is traditionally known as Kongnamul Muchim and comes with two options – spicy or mild.
Recipe Tip: After boiling the sprouts you can shock cool them in cold water to preserve the crunch!
Bok Choy is a versatile veggie; it is excellent sautéed or roasted, and baby bok choy is delicious raw in salads as well. And it's chockablock full of vitamins and minerals.
Recipe Tip: Once the bok choy has been roasted and plated you can add a drizzle of sesame oil for a dose of Keto wellness.
Crunchy romaine leaves are stuffed with pan-fried tempeh cubes in a savory sesame ginger sauce to make these healthy Asian-inspired wraps. They make the perfect light meal for a warm summer day. Depending on your carb-restrictions and your personal taste you can mix, match, and choose your own selection of veggies that you would enjoy folded into the wrap.
To Conclude
Choosing the Vegan lifestyle and following the Keto diet doesn't mean you have to say goodbye to all kinds of delicious and interesting recipes. With a little imagination, you can find Vegan Keto alternatives for everything, and what's more, they are so much healthier for you. If you enjoy Asian food you will have fun with these 17 Asian inspired recipes.
Thanks for reading our vegan keto Asian recipes.
If you want to read more of our blog, go here. And if you want more of our original kind & keto recipes, go here. Let us know how your meals turn out, drop us your comments any time.