Vegan Keto Avocado Recipes are causing a major fuss! What would vegan ketotarians do without the amazing, the fabulous, the fat-laden, the auspicious – AVOCADO PEAR?
Cry rivers, that's what.
This awesome, versatile, beyond-healthy superfood is every vegan keto's dream ingredient. It literally comes in its own bowl. Just slice, remove pip, and whalla! Avo in a bowl. Ready to be topped with a long list of vegan keto toppings, from vegan bacon to sprinkles of sunflower seeds or chia to garlic vegan mayo. And that's just a quick grab-and-go snack!
Avocados, or avos, as we like to say for short, are crammed with so much goodness. It' s almost too good to be true. But it is! Do you know what I miss more than cheese on a vegan keto diet? Bananas. Another fun fact, a person can almost live off bananas and avos alone. That's how amazing these two foods are. Sadly banana bye bye… But the Avocado Pear takes away the pain of banana separation. Big time!
This is what a medium-sized avo will give you:
23g total fat
Vitamins A, K, C, E
Vitamin B's (not B12 but high in B5)
Minerals: Iron, Potassium (more than bananas!!!), Zinc, Manganese, Magnesium, Phosphorus, Calcium
Trace elements: Copper, betaine, choline, folate
Avos are high in Omega 3 Fatty acids. The alpha-linolenic acids reduce cholesterol and are super heart-friendly. Boom, boom – We Heart Avos! And get this, 1 avo has 4 g of protein, is low in sugar and high in fiber.
Side note: A common problem on a conventional keto diet is constipation. But a healthy vegan keto diet is crammed with greens (yes, avos are green too). And greens are loaded with fiber. So Yay Vegan Keto Living!
We want you guys to really get into eating avos so here are 11 really easy, hassle-free recipes, with Avo as the Diva!
This recipe contains 284 calories, makes 8 muffins, has 2.6g net carbs (8.2 total) and a whopping (angels singing in background) 25.7g of fat.
They only take 1 hour from start to stuffing your face. 15 min prep. 30 min bake. 15 min
Instead of using eggs, this recipe calls for Just Eggs, a vegan substitute for egg. And the French Onion Dip can be mixed with dairy-free yogurt instead of cream.
Vegan Keto Favorite Ingredient
Just Eggs is a great vegan swap out for eggs. You get a few different egg substitutes. Some are powders, some are "yolk only" egg replacements (also powders). And others, like Just Eggs are perishable products, in liquid form, made completely from plants for vegans. Although Just Eggs can be bought online, and packaged in a cooler and shipped by air, it only lasts 7 days. So it is probably better to order a gluten-free egg replacement in powder form, like Bob's Red Mill Egg Replacer. One packet is equivalent to 34 eggs.
Avocado Breakfast Bowls make the ideal grab and go meal. You can have them for breakfast, lunch, and supper. It's easy to take this type of meal to the office. Take the whole avo with you. When you're ready to eat just slice the avo in half and remove the pip. Pack the salad separately and add it when you're ready to eat.
This recipe is super simple but the concept is what's important here. It showcases how easy it is to whip up an easy keto vegan meal anywhere, with no fuss. You can put any type of filling into your avo "bowl". Add nuts or seeds for extra crunchiness.
Vegan Keto Favorite Ingredient
Extra Virgin Olive Oil: Don't hold back when you choose oils on a vegan keto diet. You deserve the best quality. Not so cheap but since this eating plan is all about fats, it makes sense to splurge on the best. Go for organic and cold-pressed when you can. This Wildly Organics Olive Oil is made from organic, chemical-free olives sourced from Tunisia. It comes in a 1-liter glass bottle
This smooth bowl of bliss is made with avo in place of chickpeas. It's also got pumpkin seeds and cumin. And of course, what would hummus be without tahini? You can literally whip this up in seconds.
This Avocado hummus pairs perfectly with our
Spicy Vegan Buffalo Wings
Cauliflower Veggie Chips
Coconut Battered Vegan Keto Onion Rings
Find them in the Vegan Keto Snack section, here.
Vegan Keto Favorite Ingredient
Tahini – This brand, Kevala tahini, is made using roasted sesame seeds. But for raw food junkies, there are brands available that use raw sesame. And Kevala also does a Black Sesame Tahini, which is really awesome for creating colorful dishes. I love using black, purple, and white on a plate. Add watercress sprouts, the green just completes the palette and you get a picture of vitality! We really do eat with our eyes.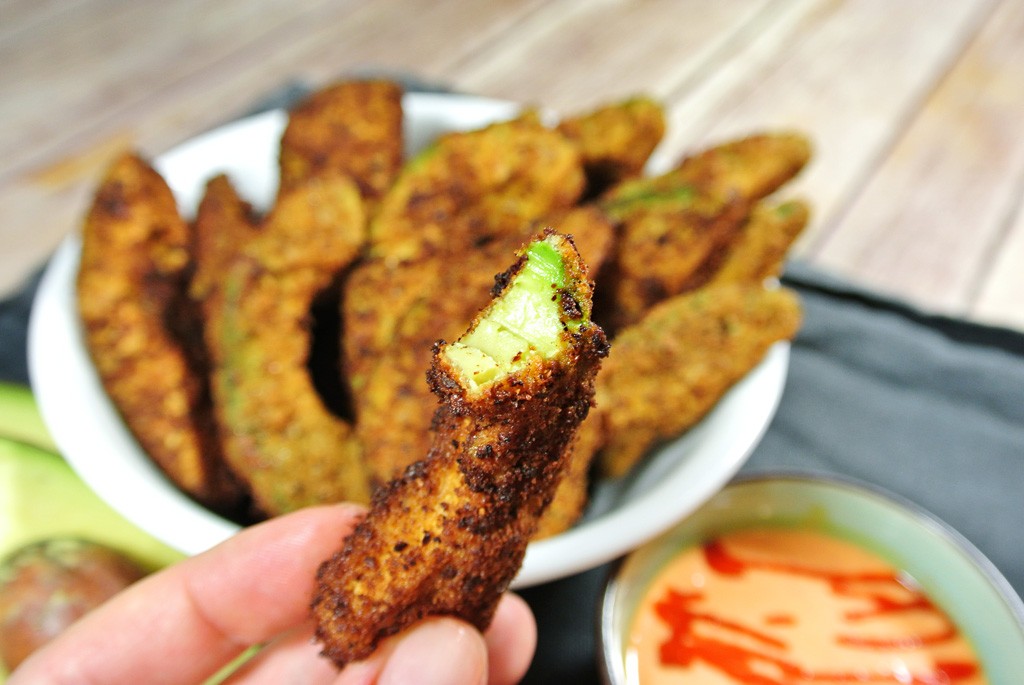 Only 4 ingredients and ready in about 10 minutes. These quick and easy avo "french fries" use almond flour instead of bread crumbs for coating. You can substitute the almond flour with any carb-free flour of your choice. Or crumble a keto bread for coating. If you are a Veggan ketotarian you can use egg instead of almond milk, to dip the individual slices before coating.
Vegan Keto Favorite Ingredient
Almond Flour: Almond flour is a gluten-free flour favorite for vegan ketotarians because it has a beautiful flavor. Wildly Organics Almond flour uses raw California-grown almonds. And it's organic. When stocking your vegan keto pantry it's a good idea to stock up on a whole variety of gluten-free flours. As you become more adventurous with your vegan keto cooking you will find that combining different flours to tweak tried and tested recipes can be great fun.
This vegan keto take on a traditional Caprese salad has us swapping out mozzarella cheese for avo instead. Super simple to construct. Minutes to prepare. A perfect summer snack or starter.
Vegan Keto Favorite Ingredient
Heirloom Tomatoes: At Kind & Keto we put the planet first. And so if we can encourage you to start your own veggie garden, or grow some salad greens in pots, we will! Beefsteak Heirloom Tomato seeds are non-GMO and organic. Beefsteak heirlooms are the ideal tomato for this recipe.
Low carb vegan and keto-friendly key lime pie to die for! Only 20 minutes to make, no-bake! But what I love the most about this recipe is the crust. Coconut, almond, and cashew crust sounds so decadent. Not adding dates to the crust or filling keeps it keto.
Vegan Keto Favorite Ingredient
Erythritol (sugar substitute). It can be tricky sometimes to find sugar-free, low-carb sweeteners that work as well as sugar in baking. So experiment until you find replacement that hits your "sweet spot". You can switch the sugar-free maple syrup in this recipe out for erythritol if you like. We use Whole Earth Erythritol. They also do a stevia and monk fruit sweetener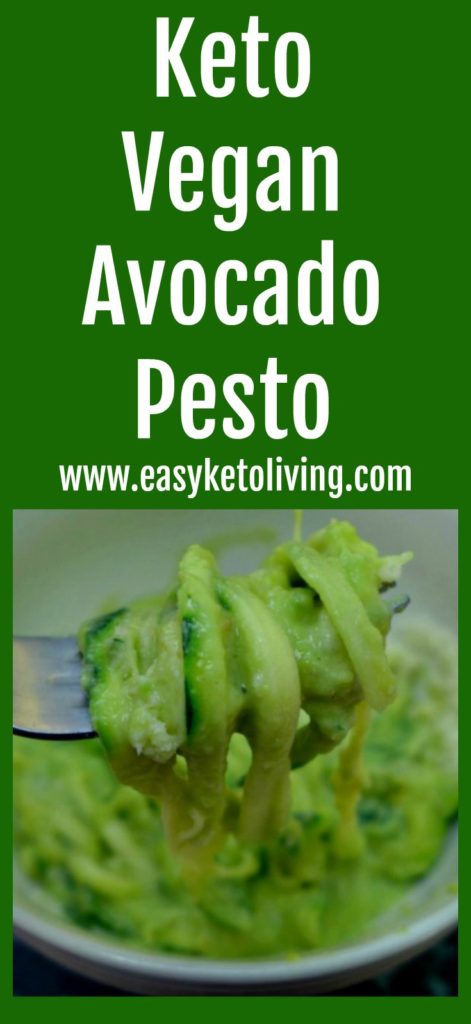 This recipe (and the many variations thereof) takes seconds to whip up. All you need to do is spiralize a zucchini add the keto vegan avo pesto as a sauce and sprinkle with "vegan cheese" aka nutritional yeast flakes, fortified or unfortified.
Vegan Keto Favorite Ingredient
The link goes to a bulk buy deal. So if you use a lot of pine nuts you can save a few dollars. And just for interest, this brand of pine nuts has a net carb of 3g per serving. 1 serving = 30g or 3 tablespoons.
Did you know a pine nut is actually a seed? Traditional pesto always calls for pine nuts. They are not cheap but they are sublime. Pine nuts come from pinyon pine trees and are from the USA!! Homegrown! You do get Asian and European varieties too. But we like to support local where we can.
Switch out the Bocconcini Mozzarrelo for a vegan cheese alternative or replace with pine nuts, roasted Pistachios, or sunflower seeds.
Vegan Keto Favorite Ingredient
From Violife I bring you Just Like Feta! This brand does a whole range of vegan cheeses. You can get shredded cheddar, provolone slices, mozzarella sticks, and more. Once opened you must use within 7 days.
This avocado cream is a dream! Use it as a decadent dip with keto vegan snacks. Pour it over tacos, salads and cauli rice. Or use it in smoothies, desserts and soups. It's smooth and rich and totally a keto vegan go-to sauce that's ready in seconds!
Vegan Keto Favorite Ingredient
This brand is a winner. You get a case of 12. I like this brand cos there's no guar gum added, or sugar. Always check the labels. Organic, sustainably farmed, and free from guar gum, additives, and sugar. Guar gum is not a bad ingredient but it's better to add it yourself if you want to thicken sauces and things. It's all about choices, peeps.
This slice of heaven on a plate takes 15 minutes to prep, 2 hours to set (in the fridge) and seconds to devour. It's a chocolatey avo mousse ona crunchy crust o nuts, coconut, and more cacao. Death by Chocolate 101.
Vegan Keto Favorite Ingredient
This cacao powder, from Wildly Organics, is raw and unfermented, and organic. Thanks to the way the cacao powder gets extracted it is of a superior quality. And the antioxidant levels are literally off the charts! It has an ORAC score of 1549! Whaaat!?
11. Pickled Vegan Keto Avocado
Who woulda thought? Pickled avocados? No!! Well, did you think you could get avo "fries" or avo choc no-bake "cake"? Introducing instant avo pickles. Super fast and super easy, super high in fiber, and an excellent form of prebiotics, especially if you use a high quality raw, unfiltered apple cider vinegar, with the mother.
Vegan Keto Favorite Ingredient
This brand is undiluted, certified organic and made from Washington State 100% organic apples. Raw, unfiltered, unheated, unpasteurized. And is bottled using glass bottles.
Well, avo'nt keep you any longer. Off you go now, make some of these avo rich recipes and pin them. If you want more of our kind and keto recipes, go here. And to read our blog, go here.